Proposal: Add XRAY token to Aada Finance
Proposal Description
We would like to add the XRAY token in Aada V1 as an asset for borrowing.
Short Summary
Ray Network provides a full range of DeFi solutions for Cardano - from an exchange app to light wallets and different SDKs. Adding the XRAY token would make Aada Finance part of the extensive network of utilities the token gives its holders.
Motivation
Ray Network is an advanced and multifunctional solution built for Cardano. The project's primary goal is to create a self-sustainable ecosystem of decentralized apps that encompasses all aspects of DeFi. XRAY is designed as the utility and governance token to power the network.
Ray Network will provide a wide range of services to the Cardano community. As there's expected to be a significant demand, adding XRAY to Aada will grant more people access to Ray's solutions. Consequently, users can borrow and use the token for staking, yield farming and/or minting on the Network's apps.
XRAY will be the payment token on all Ray Network platforms
Users will be able to stake, mint and earn yield with XRAY on the Ray Network apps
XRAY is the governance token for the Ray Network, which enables its holders to submit proposals and vote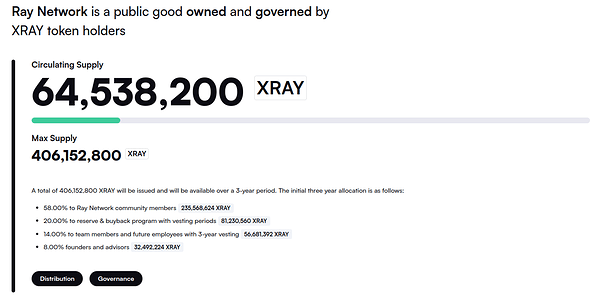 Minswap metrics:
TVL - 4.21M ₳
Volume 24h - 26.07K ₳
Volume 7D - 192.26K ₳
RayStake TVL - $149.3m
Stake Keys Involved - 24,949
Conclusion
Ray Network has an ambitious goal of becoming one of the leading service providers on Cardano. Having XRAY listed on Aada will increase the token's functionality while growing the network effect of both Aada and Ray.
References