Proposal Description
We would like to add WMT to the Aada Finance protocol as a collateral option.
Short Summary
World Mobile aims to provide real-world solutions to over 3.5 billion people worldwide who lack fundamental necessities like healthcare, education, telecommunication and banking services. Adding the WMT token to Aada will fulfil the project's goal of providing its users with broader financial opportunities. Meanwhile, allowing users to utilize their WMT and take loans will increase the demand for the Aada V1 app.
Motivation
1. Project and token overview
World Mobile is the first mobile network operator built using blockchain technology, a hybrid network, a sharing economy and renewable energy. It empowers communities without access to educational, financial, and healthcare services by allowing them to get everything by connecting to the Internet via digital IDs.
The project is built on Cardano smart contracts and allows anyone to participate in the network, making it even more accessible and secure. Ultimately, WM users become part of an ecosystem that provides calls, texts or data while incentivizing contributors with WMT rewards. Some prominent ecosystem partnerships that World Mobile leverages include IOHK, Sundaeswap, Muesliswap and VyFinance.
2. Explain the positioning of the token in the Cardano ecosystem. How will it benefit the protocol?
WMT is the driving force behind World Mobile's node network concept. It serves as an incentive for all EarthNode, AirNode and AetherNode operators. Adding the WMT token to Aada as a collateral option will enable users and node operators to long their token while increasing the demand for Aada V1.
3. What's WMT's utility?
Node operators receive WMT as rewards
World Mobile converts all customer funds to WMT
Users can provide liquidity and earn rewards on all major Cardano DEXs
WMT is one of the borrowable assets in the Aada V1 app
4. Token data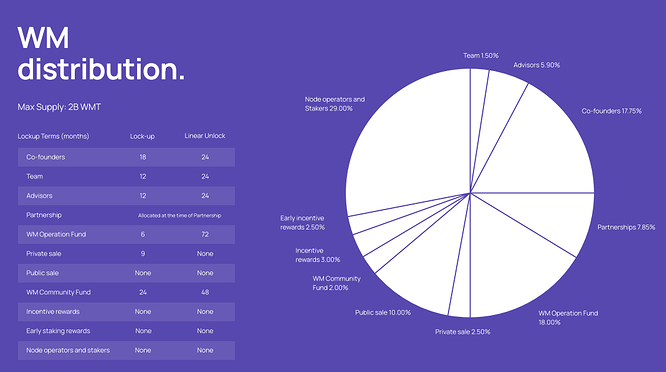 Max Supply: 2,000,000,000 WMT
Circulating Supply: 243,955,714.49 WMT
Token Holders: 20,376
Number of Vaults: 35,406
Global TVL: 212,697,986.2 WMT
Market Cap: $46,716,805 (08.10.2022)
24h Volume: $1,088,859 (08.10.2022)
Conclusion
World Mobile connects the unconnected and banks the unbanked. As one of the most community-centric projects on Cardano, World Mobile aims to deliver a real-world solution to over 3.5 billion people. In this regard, adding WMT as a collateral option will give Aada Finance exposure to over 20,000 users and many more token holders in the future.
References