Proposal Description
We would like to add the EMP token in Aada V1 as an asset for borrowing.
Short Summary
Empowa is an earn with purpose ecosystem using new technologies and thinking, to enable greener and more affordable housing in Africa.
EMP is the governance and utility token for the Empowa Ecosystem and all it's participants, as shown in the visual below.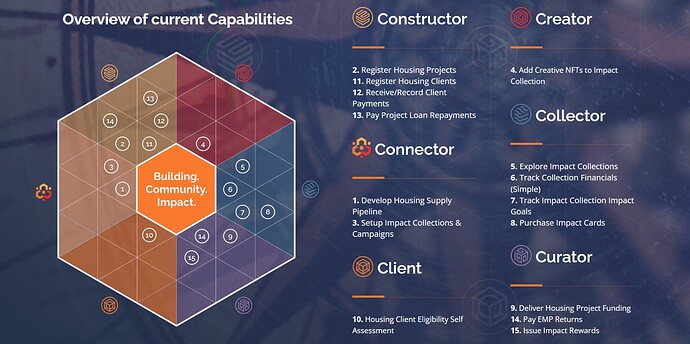 August 5th 2022
Motivation
Empowa Overview
Empowa is aiming to tackle the backlog of over 50 million homes across the African continent using blockchain to enable the flow of capital to where it is needed most and provide access to affordable and greener homes at scale.
Our community collects our Impact Cards (NFTs) that offer holders utility through collab partnerships and monthly rewards for supporting the impact made. Our first NFT collection, sold in partnership with World Mobile, has increased the home loan market in Mozambique by 5%.
The EMP token will be used across the Empowa Ecosystem, as the utility and governance token. Longer term we will allow our Impact Card collections to be purchased exclusively in EMP. As well as researching how the EMP token can be used by some of the other Ecosystem participants to further its utility for the benefit of the ecosystems long term ambitions.
EMP Tokenomics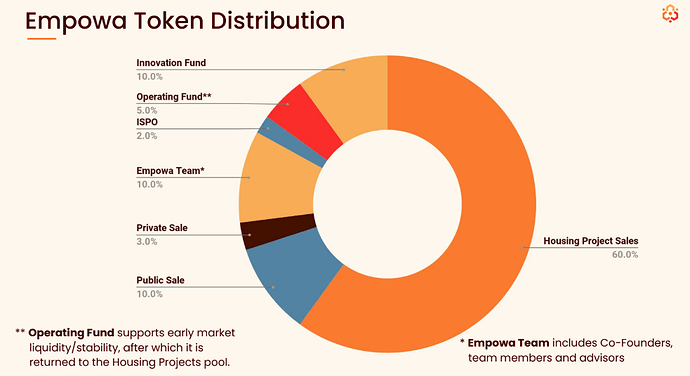 EMP in the Cardano Ecosystem
Empowa will be working with many of the technologies and projects that are built on top of the Cardano Blockchain in order to attract collectors into the ecosystem by adding value to our NFTs. Examples of this include additional yield on DeFi platforms, artwork with rarity, utility within a metaverse as a few examples.
The Empowa Ecosystem in the long term will be able to onboard residents into the Cardano Ecosystem. Enabling them to use the many other protocols on Cardano, further empowering home owners and increasing the access to services that traditional finance cannot address. An example of this is our partnership with World Mobile to provide internet access in Mozambique for the first homes financed by the Empowa community.
Market Data
The EMP token is approaching the end of the vesting period for ISPO and Public Sale tokens (September 15th) and some details are being finalised in order to add Yield Farming and Staking incentives on at least one of the major exchanges on Cardano. This will hopefully add depth to the liquidity, which currently sits at around 105k ADA across Minswap and Sundae without any incentives besides the Trading Fee distributed to LPs.
Current Circulating Supply (as of writing): 8,251,372 EMP
Circulating Market Cap: $1,007,055
References:
Website: https://empowa.io/
Collaboration with World Mobile: https://empowa.io/nft-sale/
Empowa Compass: https://empowa.io/compass/
Empowa Token: https://empowa.io/token/
Tokenomics: https://drive.google.com/file/d/1TIVu0TcotmMuYgIc_T-s0K3_Hg0f-UnY/view