Proposal Description
We would like to add the $DING token in AADA V1 as an asset for borrowing.
Short Summary
As part of the efforts to cement the $DING economy, DEADPXLZ aims to provide its token holders with utility outside of the project ecosystem's bounds, targeting advantageous use cases such as enabling DING to be used as an asset for borrowing within the AADA dApp.
Motivation
Who is posting the proposal? (a community member or a team member).
AF, the founder of DEADPXLZ.
Project and token overview
DEADPXLZ is the first interactive NFT collection on the Cardano blockchain. It started out in March 2021 and is currently developing a crypto gaming platform named PXL Wars, built around a novel Play to Earn model with the goal of rewarding both those who are skilled at the game and the holders of the Genesis PXLZ collection.
With PXL Wars, DEADPXLZ (roadmap here) aims to bring the next generation P2E gaming experience to the CNFT space by leveraging Cardano's unique extended UTxO model and protocol capabilities. The $DING token is a key part of this narrative due to its positioning as both project governance and utility token.
Explain the positioning of the token in the Cardano ecosystem. How will it benefit the protocol?
$DING is the utility & governance token of the DEADPXLZ ecosystem.
The total supply of $DING is fixed at 1,000,000,000.
The $DING token will be used within the in-game economy and as well as engage the community into several distribution programmes meant to achieve the project milestones such as:
Furthermore, DEADPXLZ takes pride in having garnered a strong community which can bring significant volume to the AADA protocol thus benefiting both AADA and DING holders.
The fact that the project recently managed to raise 1.6M ADA in TVL through its LP Drive community-driven event stands testament to the fact that PXL Fam is a mature & dedicated CNFT community.
What's the asset's utility?
PXL Wars players will be able to use $DING to purchase different in-game utility and cosmetic items, stake, or participate in the governance of the DEADPXLZ project.
In addition to this, we plan to integrate DING into various other projects and dApps developing on Cardano such as DEXes, marketplaces, auction houses, lending platforms & more.
Token data
Shortly after its successful liquidity pool seed round, $DING has quickly positioned itself to be one of the top Cardano native tokens. Aggregated trading data can be found here.
You can check the live $DING circulating supply as well as other token metrics by going here.
Total supply is fixed at 1,000,000,000 $DING, as follows:
PXL Staking Program : 68,209,881 $DING
Community DAO Treasury: 6,790,119 + Unclaimed PXL Staking $DING
Project Treasury: 600,000,000 $DING
Ecosystem Fund: 200,000,000 $DING
Team & Advisors: 100,000,000 $DING
Emission Schedule:
All details regarding $DING distribution can be found here.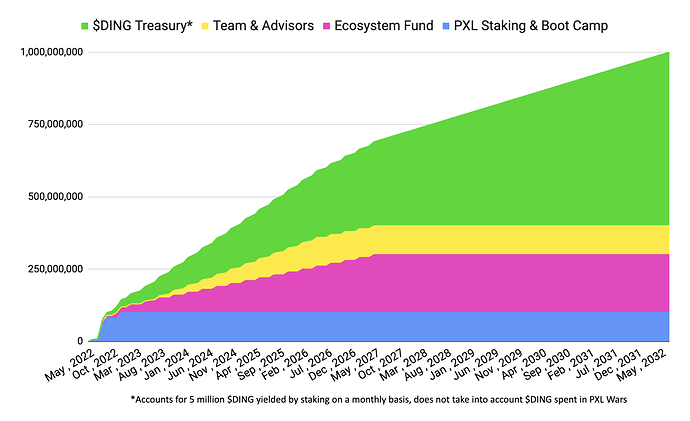 $DING is being currently traded on Minswap and Muesli Swap with constant top 24h volume numbers alongside other best performers in the Cardano ecosystem.
TVL at the time of writing is: ~2.5 Million ADA
All details regarding DING distribution can be found here.
Conclusion
We are focused on actions speaking louder than words and we have the drive and history to prove that DEADPXLZ has set out to meet every milestone it has laid out. Community engagement has been the project's priority from day one, enabling holders to benefit from an organic ecosystem that is focused on user experience and growth by combining utility and governance.
References: