Proposal Description
I would like to add the COPI token in Aada V1 as a collateral option for borrowing.
Short Summary
14 October 2022
Cornucopias 'The Island' is a massive Play-To-Earn, Build-To-Earn, and Learn-To-Earn blockchain-based game where players can be rewarded with and/or own land, properties and other NFT-based assets with real-world value all by playing games in a fun and safe metaverse. Built on the Unreal 5 games engine, 'The Island' combines gaming with Real World commerce.
Adding COPI token as a collateral option in Aada V1 will help bond the two communities into mutual benefit between DeFi and Metaverse gaming.
Motivation
1. Project and token overview
The Cornucopias metaverse is a network of floating bubbles and domes, each with diverse themes and characteristics. Here, players of all ages can engage in a series of mini-games and explore vast landscapes in search of precious resources which can be crafted into valuable items. The vision is to bring the player freedom, power, autonomy and new economics. The ambition is to create a cutting-edge metaverse experience through immersive gameplay, an exciting story, exceptional artwork and innovative economics. The economy is built on the blockchain, where players can earn $COPI tokens through various in-game engagements.
2. Explain the positioning of the token in the Cardano ecosystem. How will it benefit the protocol?
Cornucopias 'The Island', when completed, will be a massive, multi-player, online roleplaying game (MMORPG) that's an expansive, multi-platform (PC, web browser, games console, mobile phone, smart TV) environment. There you can earn cryptocurrency tokens through skilled gameplay and contributions to the ecosystem. $COPI, the governance and utility token of The Cornucopias metaverse, is used to create the economy within the game, reward holders and decide the future of the game through governance.
3. What's the asset's utility?
$COPI token is used to create the economy within the game through a lot of aspects, including but not limited to:
Play-to-earn
Build-to-earn
Learn-to-earn
Purchase NFTs of Lands, Characters, Gasse assets
Earn Rewards
Participate in governance
4. Token data (Emission schedule, Market data)
$COPI has a fixed total supply of 3.840 Billion tokens with the following tokenomics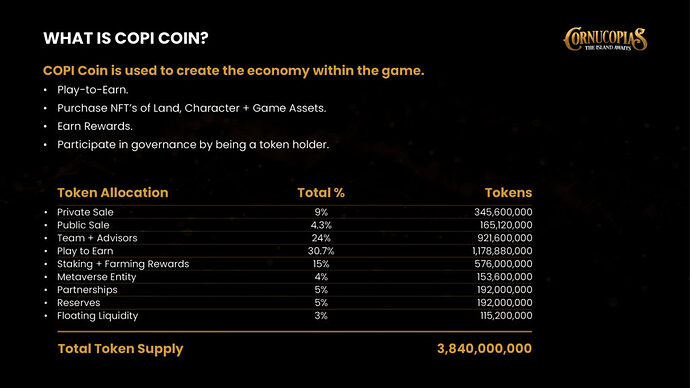 Conclusion
Adding COPI to Aada as collateral will help both communities by increasing the token and lending protocol use cases. The token will have a high trading volume, which makes it perfect for Aada V1 as collateral.
References