Proposal Description -
I would like to add the WingRiders Governance token in Aada V1 as a collateral option for borrowing.
Short Summary
14 / 10/ 2022
WingRiders is an Automated market maker (AMM) decentralized exchange (DEX) on top of the Cardano eUTxO model live on the main chain. The project's code base is powered by VacuumLabs, one of the most widely respected developers in the Cardano space from its inception. WingRiders aim is to be an infrastructure element of the whole Cardano ecosystem. Wide possibilities and easy integration into any wallet (Nu.fi was the first) or dApp in the need of swap between tokens. Accessible with 6 software wallets already, embedded in one additional one staking platform Nu.fi , already supporting three blockchains (Solana, Flow, Cardano) and directly compatible with 2 HW wallets (Ledger, Trezor).
Motivation
Project and token overview
We at WingRiders believe that the greatest thing about crypto is the community. We want to band together to become Riders – to support each other, to work together and to fly to mutual utility and prosperity. Out avatar, "The Rider" is a hero, he hides his face to demonstrate our commitment to privacy for users, and at the same time providing safe, secure DeFi functions.
As a WRT holder you can participate in the voting process regarding key decisions for the project's development. The DAO members can propose various changes or even change the voting power of the governance token. Feature governance voting's on:
protocol parameters of the platform,
which features will get added next,
upgrading modular smart contracts,
fee parameters of the platform,
selecting what farms will be enabled, including their reward allocation.
Explain the positioning of the token in the Cardano ecosystem. How will it benefit the protocol?
Problem: Cardano is the most popular blockchain in terms of development over the last 12 months, but until Feb 2022, there were no DEXes on Cardano. The ability for users and other dApps to fast, easily, and securely execute the transition from one asset to another was missing.
Solution: WingRiders AMM DEX platform is already live at WingRiders.com on Cardano mainnet. Unlike other projects, with WingRiders the majority of its v1 features is functional! Thus you are supporting a live project rather than a sole marketing deck.
By providing the best in class development expertise, WingRiders provide a lean, highly Integratable light weight dApp that runs in your browser with cutting edge DeFi encompassing Swaps, Staking, Yield Farming and NFT support.
WRT token holders shape the future of WingRiders through voting rights in the Decentralized Autonomous Organization (DAO). WingRiders' vision has always been to become a full-fledged DAO, governed by the community to benefit the community, using the WRT token as governance and utility mechanism making it possible.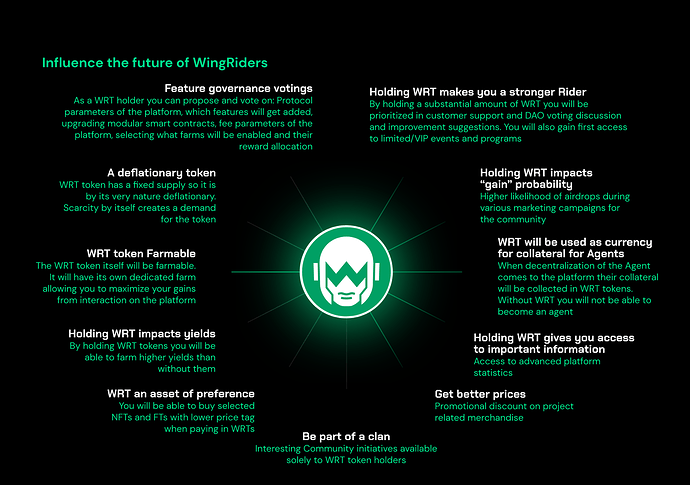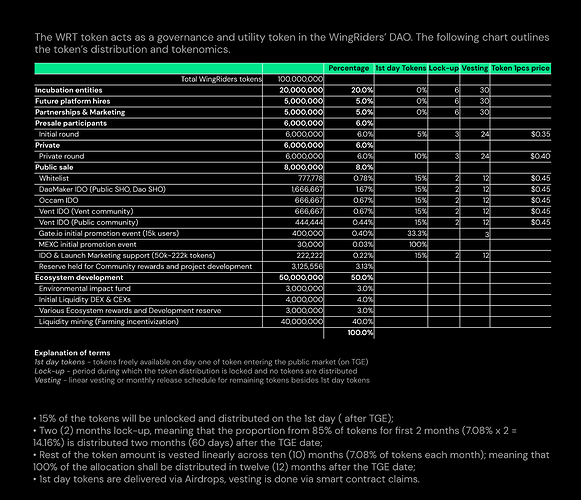 More information about WingRiders Governance token is available at WingRiders: The DEX on Cardano.
Conclusion
Adding WRT to Aada as collateral option will help both communities by increasing the token and lending protocol use cases. The token has high trading volume, which makes it perfect for Aada V1 as collateral.
References
/Link to:/