Proposal Description
I would like to propose adding PAVIA to Aada V1 as a collateral option.
Short Summary
Pavia is the first metaverse project on Cardano based in a utopian future world. It's a Play-to-Earn game where users enjoy fun gaming and social interaction. The open-world concept of Pavia's universe aims to bring back exploration through digital ownership and meaningful partnerships. Adding its PAVIA token to Aada as a collateral option is essential to interconnecting the lending protocol with Cardano's metaverse worlds and NFT enthusiasts.
Motivation
Pavia is the birthplace of Italian mathematician Gerolamo Cardano, thus the project's name. It's the first metaverse project on Cardano with a large following (68.5K+ followers on Twitter and 72K Discord members). It presents an open concept world with land ownership distributed through 100,000 virtual NFT plots. Each owner can build and customize their plot by leveraging many in-game utilities.
The game employs a Play-to-earn element where users will win PAVIA rewards for completing various tasks and achievements. They will use the token to buy wearables, transport mechanics, equipment, and in-game assets. So far, PAVIA has the largest TVL and daily volume of all metaverse projects on Cardano.
Being one of Cardano's most popular metaverse projects, Aada will benefit by attracting a larger audience to lend and borrow their token of choice. Moreover, adding PAVIA to Aada as collateral will enable users to leverage the token's in-game utilities, trading creator assets, transport mechanics, and more.
PAVIA is the utility token designed for use in the metaverse
PAVIA will also serve as a reward incentive for various achievements and participation activities
Users can become liquidity providers on Minswap, Wingriders and Sundaeswap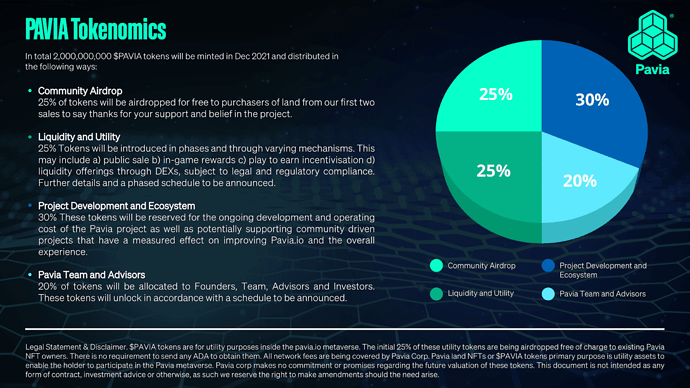 Total Supply: 2,000,000,000 PAVIA
Circulating Supply: 500,000,000 PAVIA
Market Cap (Coinmarketcap): $46,294,934
TVL (Minswap): 4.17M ₳
Volume 24h (Minswap): $18,993
Volume 24h (Hotbit): $53,005
Conclusion
Adding PAVIA to Aada Finance as a collateral option is essential for building a healthy bridge between DeFi and metaverse. Pavia members will be able to borrow other CNTs with PAVIA as collateral for larger in-game utilization while increasing the usability of Aada.
References